Espresso, milk, and peanut butter come together to make the delectable and highly addictive beverage known as the peanut butter latte. This classic beverage is bursting with decadent peanut butter, blending beautifully with perfectly strong black coffee.
It's smooth, delicious, gently salty, and not too sweet. This specialty latte is perfect for a hectic morning or a leisurely afternoon. Plus, it takes only five minutes to prepare and is simple to do at home.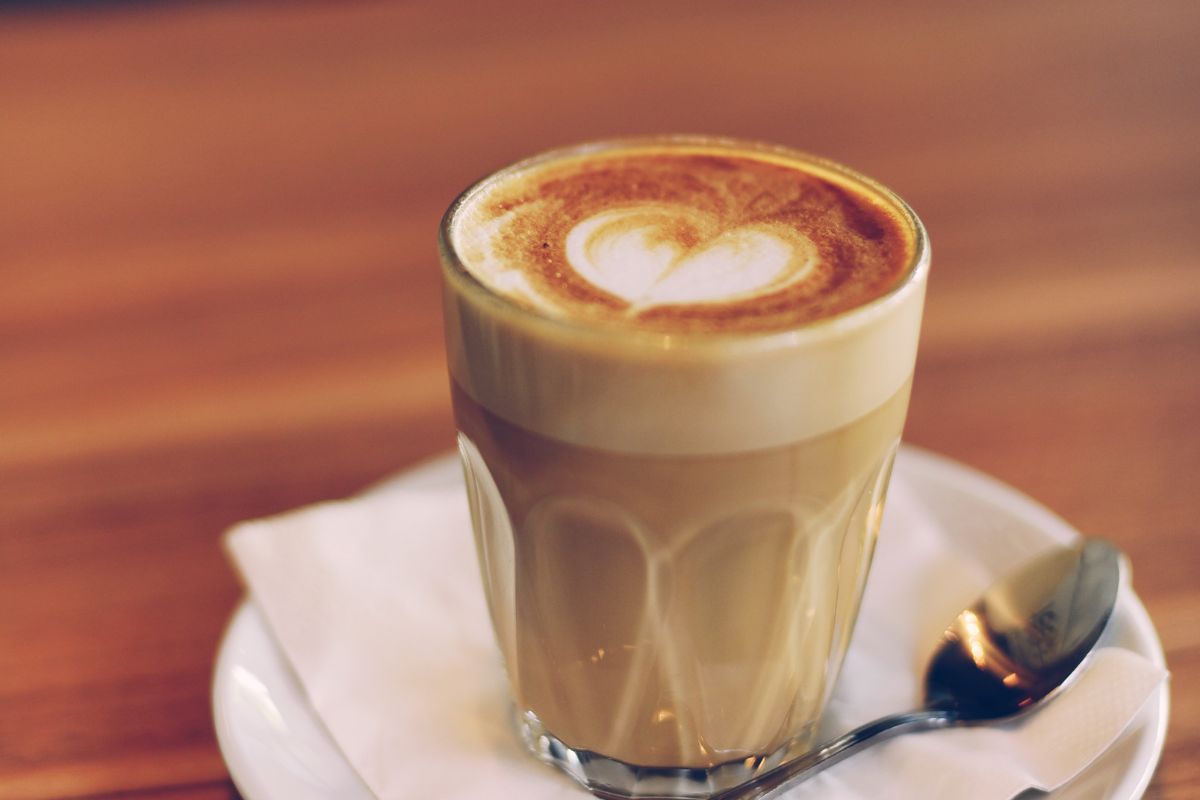 Where Does The Peanut Latte Come From?
I guarantee you that peanuts and coffee are not an odd mixture and the peanut butter latte isn't just for peanut butter fans. In fact, it has been making the rounds on the Internet for some time, and much longer in person. It may have first acquired popularity in the 1940s when doctors recommended the potent combination to treat malnourished patients, or because it was frequently offered in restaurants at the time. Although its origins are unknown, peanut butter lattes have always been popular.
On Udo Island, off the coast of Jeju, South Korea, peanuts are a favored treat. The widely used ingredient is common in the area and is used in specialty foods, ice cream, and drinks. The peanut latte or peanut cream latte originated as a regional flavor on this island and was introduced to the metropolis where specialized coffee shops are renowned for promoting Korean tradition with innovative coffee recipes and world-class coffee.
There are many fun little coffee shops and franchises in South Korea. In addition to innovation, they have made significant contributions to the world's burgeoning coffee culture, including Dalgona Coffee and the Peanut Butter Latte.
Does Peanut Butter Go Well With Coffee?
Peanuts are one of the most protein-dense nuts you can eat. Protein is a nutrient that gives you energy and makes you feel full. It's found in both protein coffee (or 'proffee') and peanut butter lattes. Take one or the other with a small, typically protein-light breakfast. 
A peanut butter latte has excellent nutritive properties to help you feel full. Peanut butter contains a lot of protein, carbs, and monounsaturated fats, all of which will provide you the energy you need for the day. Protein coffee, on the other hand, provides a full complement of nutrients to power you through your day.
Your body is able to continue producing energy and burning calories when you have your first meal with this extra protein punch. Coffee is well known for boosting energy, acting as a laxative, and promoting heart and brain health.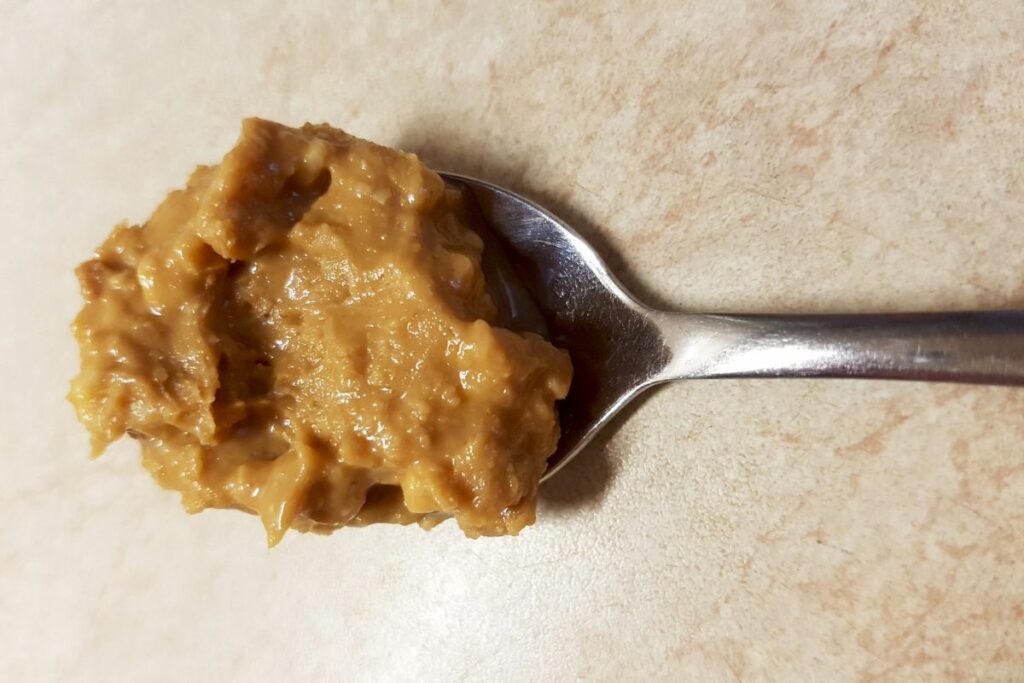 Making a Peanut Butter Latte at Home
Peanut butter's nutty richness nicely pairs with coffee's robust, intense flavor and the milk's slight sweetness. You can enjoy the beverage on its own with or without sweetener, using any type of milk you'd like. Here are some things you'll need to know in order to make a peanut butter latte at home.
Prepare these pantry ingredients
This creamy coffee treat just needs three basic ingredients: espresso, milk, and peanut butter.
Espresso. Create rich flavors that will complement the peanut butter in this latte by using fresh, high-quality coffee beans. Preferably you'll even grind your own beans. To establish a flavor balance, a double dose of espresso is advised. If you have a low tolerance for caffeine, feel free to stick to a single shot or a regular brewed coffee.
Milk. Whole milk is the best option for giving lattes sweetness and creamy foam. To generate the smooth microfoam required for frothy lattes and stunning latte art, whole milk offers a nice combination of fat and sugar. Alternative milk options include half and half, Lactaid, macadamia nut milk, oat milk, almond milk, skim milk, cashew milk, or soy milk. Depending on your preferred milk, the latte can disintegrate swiftly, separating milk from espresso in just a few minutes.
Peanut Butter. Natural, unsweetened peanut butter is the ideal choice for a peanut butter latte. Try Smuckers' natural creamy peanut butter or Justin's classic creamy peanut butter. For enhancing the nuttiness of the peanut-flavored coffee, some recipes recommend using peanut butter powder or peanut-flavored syrup. The creamy texture will not remain if the peanut butter itself is completely left out, but it is possible to substitute Biscoff, cookie butter, cashew butter, and almond butter.
A peanut butter latte can be made sweeter by adding honey, granulated sugar, or any other preferred sweetener; you'll add this to the glass after the milk. Condensed milk, maple syrup, vanilla extract, chocolate syrup, and caramel syrup are a few additional ingredients that can enhance the flavor. Whipping cream, java chips, chocolate chips, espresso chips, or chocolate-dipped coffee beans can be used as a garnish to provide texture.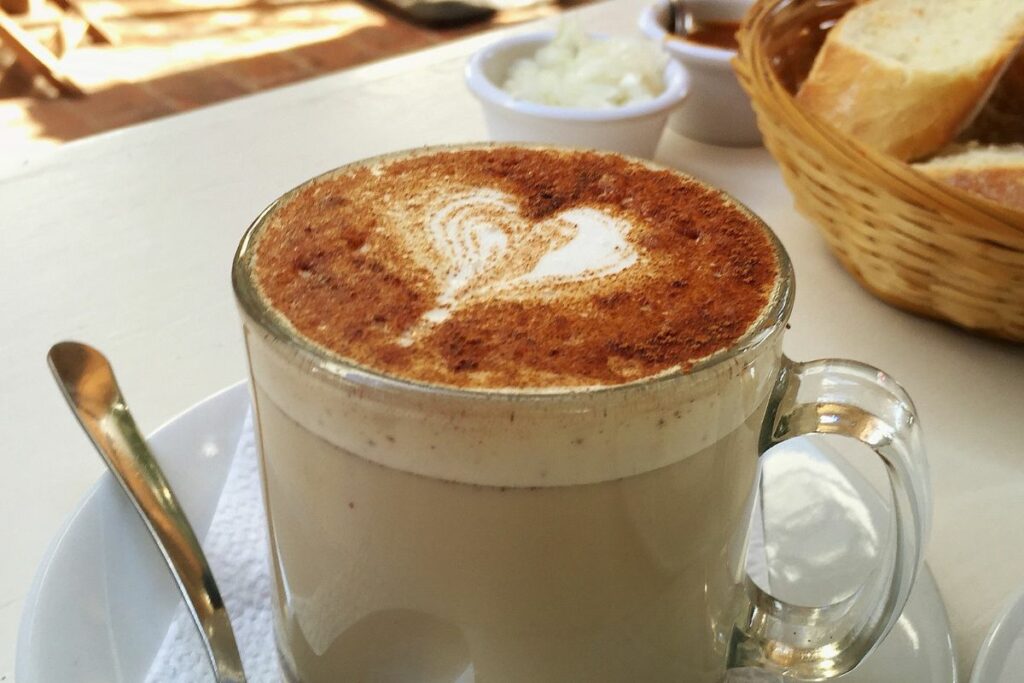 Tools of the trade
To make the ideal cup of peanut butter latte, you will need a few pieces of equipment: an espresso maker (either a machine or a manual espresso maker, such as an Aeropress or Moka pot), a coffee bean grinder, a saucepan, a blender, and/or a milk frother.
Roast recommendation for the best Peanut Butter Latte
Making sure you use high-quality espresso is one of the most important things to think about while making a peanut butter latte. It is recommended to select premium espresso beans that are created especially for generating strong, flavorful espresso shots. When purchased from a retailer or a local roaster, the whole beans must be recently roasted.
They should then be freshly ground before you can make espresso. If the beans are fresh and you don't have much experience using them, test them out several times until you find the ideal grind and extraction for your preferences.
The type of coffee roast determines how potent the coffee will be, so it's important to be careful while choosing the roast to buy or use. Picking medium-dark to dark roasts will complement the flavor of the nut when making a peanut butter latte; both have excellent flavor. A medium roast will also work and produce a somewhat more laid-back coffee flavor. These will guarantee that the espresso has a full to medium body, little to no acidity, and a robust taste. The foundation for a great latte is making good espresso.
5 Best Peanut Butter Latte Recipes
Best Peanut Butter Latte Recipe
Prep Time: 6 minutes
The best thing about this traditional version is that we can fine-tune this winning combination and later add ingredients to change up the flavor. To enhance the flavor, add cocoa powder, chocolate sauce, or caramel sauce. We recommend brewing a double espresso for a strong beverage as a single serve. This recipe calls for use of a saucepan, and uses milk, peanut butter, honey, and vanilla. Pure decadence in a cup!
Peanut Butter Caramel Latte
Prep Time: 10 minutes
This recipe, as the name implies, elevates the classic sweet-salty peanut butter latte with caramel notes. Unsweetened soymilk, cashews, pitted dates, peanut butter, espresso, and pure vanilla extract combined with just a sprinkle of cinnamon. It promises thick, creamy, nutty sweetness with a strong espresso kick.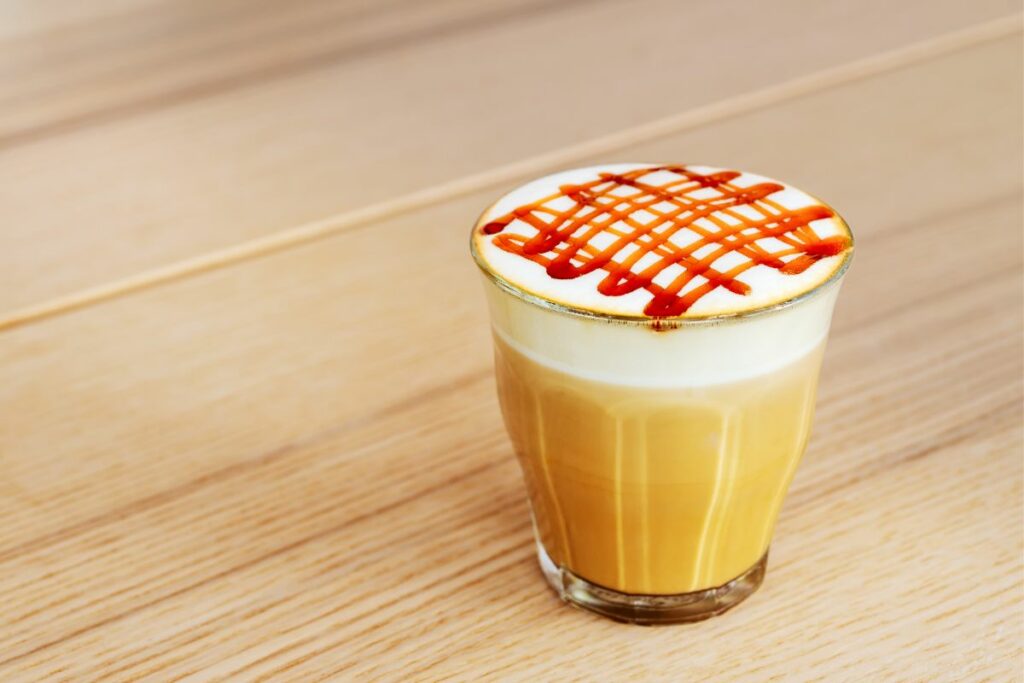 Peanut Butter Coffee
Prep Time: 2 minutes
This nutritious and delicious cold beverage combines peanut butter and coffee beautifully. To balance out the sweetness, pair this recipe with an intense dark roast or espresso roast. It calls for chilled coffee, whole milk, granulated sweetener, peanut butter, and ice. This heavenly cold drink is a cross between a latte and a mocha, with wonderfully nutty notes.
Dairy-free Peanut Butter Honey Latte
Prep Time: 5 minutes
Here's a dairy-free alternative to our beloved Peanut Butter Latte. It is so easy and simple that the recipe can be completed in 5 minutes. You just need cashew milk, peanut butter, honey, and cinnamon, plus your favorite piping hot strong coffee. It's like our favorite dessert served in a mug!
Peanut Butter Cream Latte
Prep Time: 15 mins
Behold! An out-of-this-world, creamy, cold peanut-buttery coffee confection. The combination of a strong batch of cold brew sandwiched between two layers of thick peanut butter whipped cream (made with peanut butter, powdered peanut butter, and syrup) is satisfyingly delicious. Sure, you may consume enough calories for one meal in a single cup of coffee, but the indulgence will be worth it, eh.