Tiktok has been the birthplace of many fitness fads, and home to an ever-evolving wellness lifestyle. The growing health craze, proffee – coffee infused with protein powder- has taken over social media, much like the up-and-coming olive oil latte. Celebrities, athletes, and regular users all embraced it fast, and cited advantages such as an energy boost, a reduction in cravings, and assistance with muscle growth.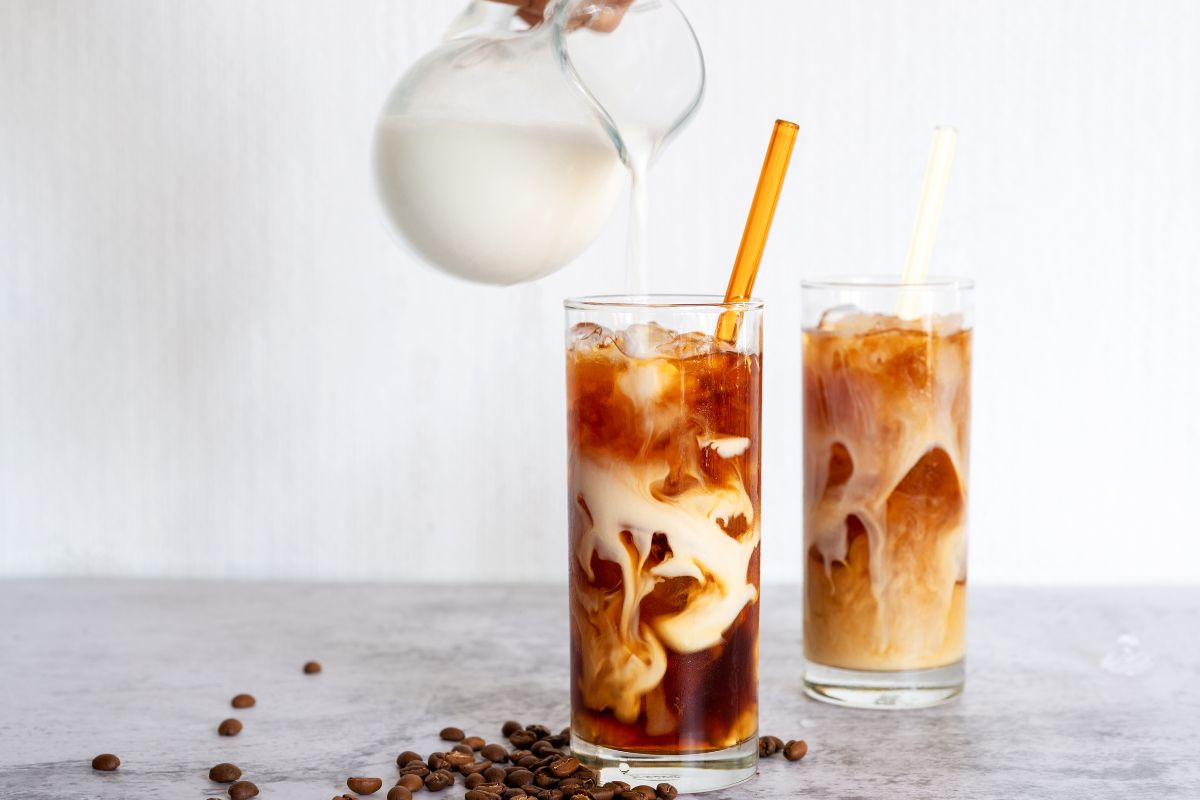 Benefits of Drinking Proffee
Proffee gives your body the boost it needs to lead an active and healthy lifestyle. Caffeine has antioxidant properties, suppresses hunger, and boosts attention and energy, while protein has excellent nutritional value. Here are some more benefits to drinking proffee.
Combining coffee with protein powder can help reduce hunger and ward off cravings.
Adding protein powder to coffee enhances calorie expenditure throughout the day and boosts your metabolism (ergo burning more fat).
Enables you to power start your day and stay active for a longer period of time.
Helps you feel fuller for longer. Because protein is absorbed more slowly and reduces the rise in blood sugar levels after meals, this encourages people to eat less overall and, more crucially, refrain from slipping sugary snacks into their diets for a quick boost.
In particular, the protein in coffee increases fat burning while the caffeine gives you more energy while you're working outs. Coffee also encourages lean muscle growth and helps heal muscle tissue damage.
Proffee's popularity may have been sparked by social media, but many people who are following it give it credit for more than just its advantages. Its appeal stems from its flavor, adaptability, and simplicity of preparation—just whisk it into hot or cold coffee—as well as from how easily it may be consumed.
Four similar drink types to Proffee
Coffee-flavored Protein Shake
Bulletproof Coffee
Energy Drink
Collagen Coffee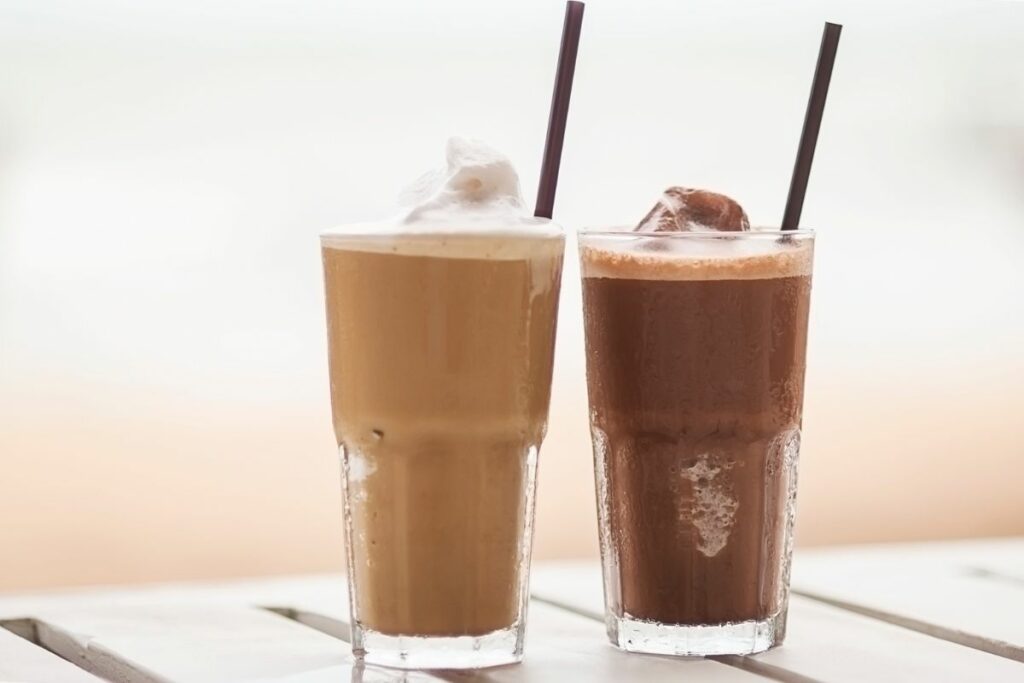 What Protein Powder to Use for Proffee
Protein is found in a variety of foods. It is a macronutrient needed by the body to perform many functions including muscle building, bone strengthening, and immunity boosting. Many people turn to protein powder-enriched coffee because it is a healthier version of just plain coffee.
It's always better to consume dietary protein through a well-balanced diet. But if you live an active lifestyle, exercise a lot, or train as an athlete, supplementing your protein intake with protein powders might help you achieve your daily protein needs. The body can efficiently break down 25 – 40 grams of protein per hour, so it's best to space out protein consumption.
There are many widely available protein powders that you can use for Proffee. Each of them varies in their composition and function, whether it's muscle development or weight loss. Most protein powders on the market are complete protein sources – containing an adequate amount of all nine essential amino acids. Let's take a look at some complete protein types to use for proffee.
Whey Protein
Whey protein is the most popular type of protein powder. It's ideal for daily use. Containing all nine essential amino acids, whey protein is easily digested and absorbed by the body in as fast as 20 minutes. This type of protein is best taken pre or post-workout.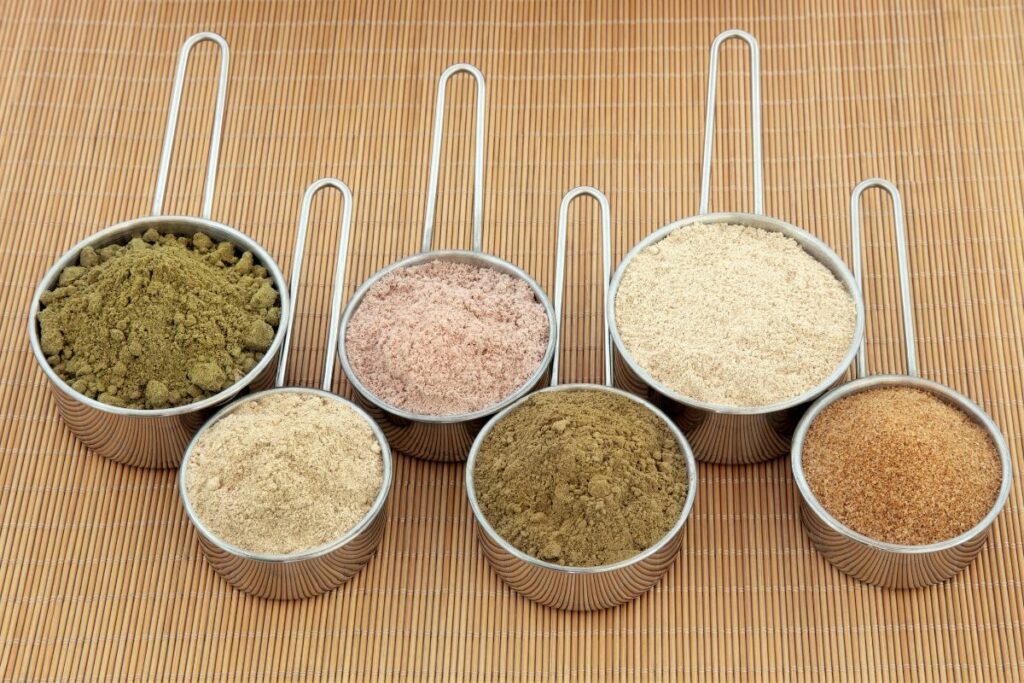 Casein Protein
Casein is a high-quality protein that contains all nine essential amino acids. It slows the speed of protein synthesis by up to 3-4 hours, protecting your muscle mass, which is ideal for when you're not actively exercising. Casein protein powder is more filling than whey in the long term, which can help delay hunger pangs and food cravings, though it's more likely to irritate the gut.
Hempseed Protein
Hemp is a complete protein powder suitable for vegans or those with milk allergies. It is completely plant-based and boasts high nutritional value and generally easy digestibility. Hemp seed protein is also lower in calories compared to whey or casein protein powders. While it's overall lower in protein than whey, it contains more fiber, calcium, iron, phytonutrients, omega-3 fatty acids, and antioxidants. Overall it provides the body with a steady supply of protein, making it ideal for in-between meals or before bedtime consumption.
Pea Protein
Pea protein powder is another complete protein, containing all nine essential amino acids. It's a superior vegan protein source, and rich in iron. Pea protein is generally well-tolerated and easily digested, and when blended into drinks like coffee, it adds a creamy texture.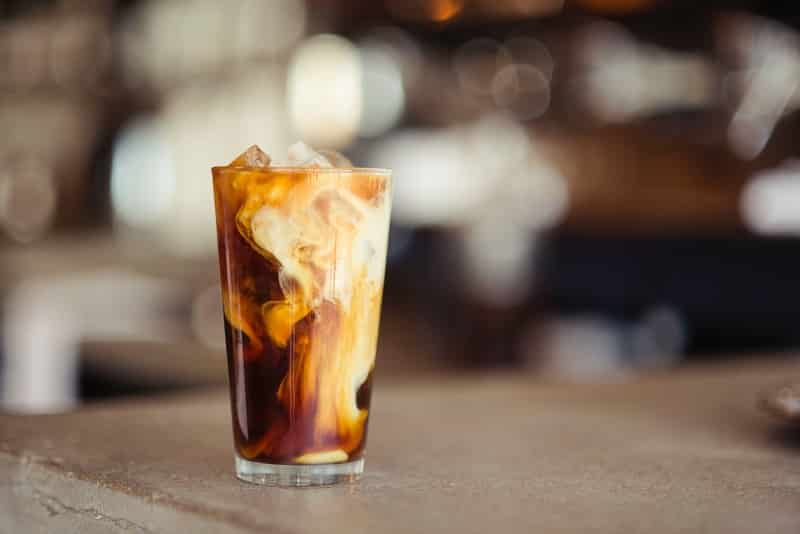 Making Proffee at Home (Protein Coffee)
Making proffee at home is so easy. Brew a cup of coffee and stir in your protein powder of choice. We've already mentioned some great complete proteins above to help you make an informed decision on which protein is best to use for your proffee. To make a cold proffee, stir protein powder into a cold brew or blend coffee, protein powder and ice. It's that simple.
Here are the key ingredients to make proffee:
Coffee
To create a truly delectable cup of proffee, make your own coffee. Pull an espresso (or a double) or make a cold brew at home for an intense caffeine kick. A strong-tasting brew allows you to tweak the recipe with flavor, sweetener, and milk. Otherwise, proffee becomes just another protein drink with a mild caffeine flavor – which we don't want.
To make a perfectly good espresso, use an espresso roast or medium-dark to dark roast coffee beans. Espresso roast and dark roast have the least acidity so it's better for your tummy. Source these from your local roaster and always check the roast date. Anywhere from 3 days up to two weeks is a good buy. It's also important to grind the beans yourself. Taking the time to do this ensures strong, and robust flavors in your cup of coffee. 
Protein Powder
There are many types of protein powders you could use, depending on your specific needs. Whatever you choose, monitor your tolerance when introducing a protein supplement to your diet.
First is Garden of Life Organic Plant-based Sport Protein Powder. It is vegan, gluten-free, organic and a complete source of protein. It contains 30 grams of protein per serving, ideal for a post-workout recovery drink. It's packed with vitamins, minerals, probiotics, and protein with zero sugar; it just blends into creamy smoothness.
Next is Naked Whey and Naked Nutrition. Naked whey is premium grass-fed whey that is free from additives and artificial sweeteners. This protein powder contains only a single ingredient – whey protein concentrate. Naked Whey Chocolate is exactly the same formulation as Naked whey with the addition of raw cacao and coconut sweetener. Whether you enjoy a flavor kick or a raw base, Naked has a protein powder for you. We like to tweak the flavor ourselves so using basic ingredients is essential.
Last is Sprout Living Organic Pea Protein. Organic, non-GMO yellow peas harvested from North America, provide all nine essential amino acids and BCAAs. This clean protein powder is easily digestible and provides a sweet, slightly nutty, creamy taste to any beverage.
Flavor Enhancers
Use honey, maple syrup, or agave nectar, to sweeten your cup of proffee. Add cinnamon powder (or stir with a stick), chocolate sauce, caramel syrup, or even homemade spice blends. Stick to healthy alternatives during this step, to enjoy the full range of benefits that proffee has to offer.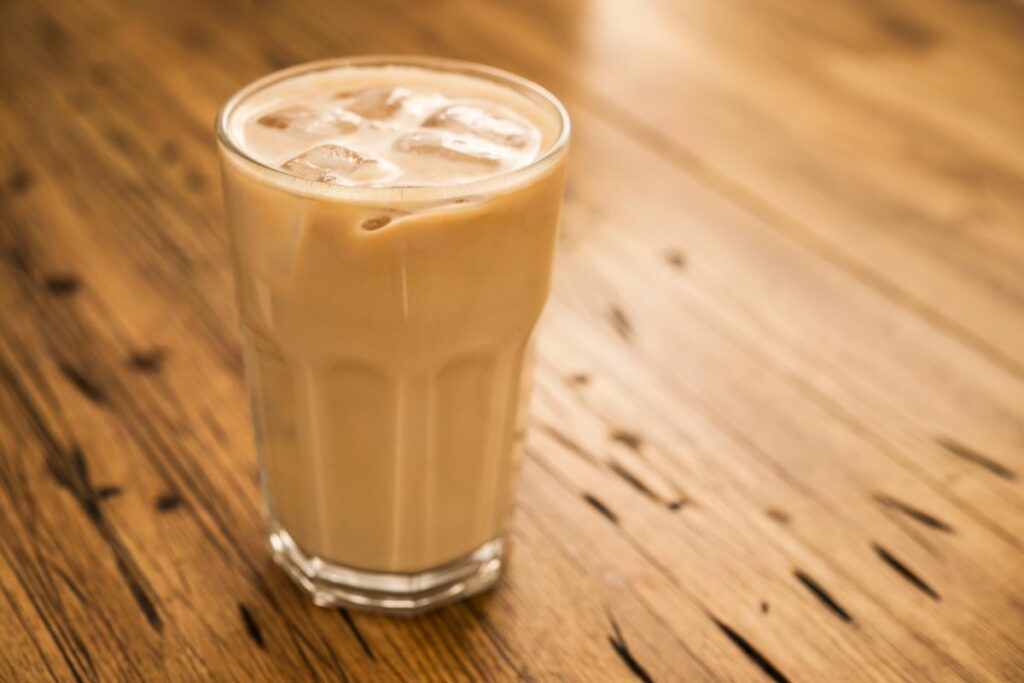 Here are the essential pieces of equipment needed to make proffee, depending on the recipe:
Ice cube tray
Measuring cup
Whisk
Barware: mugs or glasses
Digital scale (for making espresso)
Shaker (for making your protein powder, warning: don't shake hot water and protein powder mix!!!)
Stirrer (for mixing protein powder into cold brew, remember: avoid stirring protein powder directly in your coffee to avoid a lumpy mess)
Milk-frother (for blending your protein powder with milk or water)
Electric Mixing tool: Single-cup Blender, Immersion blender (make your protein drink in a blender for ease of mixing)
5 Best Variations of Proffee Recipes (Protein Coffee)
High Protein Iced Mocha Shake
Prep Time: 5 minutes
Mornings are truly better with coffee, chocolate, and an extra punch of protein. This iced mocha shake is keto-friendly and low-carb, and the protein makes you feel fuller for longer.
Vanilla Proffee Latte
Prep time: 5 minutes
Enjoy a latte and still achieve your fitness goals all in one go with a Vanilla Proffee Latte. This particular recipe comes together in 5 quick minutes, and it's vegan and dairy-free too, using creamy oat milk. It's a simply divine post-workout beverage made using whey protein powder as the base.
Banana Proffee Smoothie
Prep time: 10 minutes
Ride the latest Tiktok fitness fad by making yourself a glass of this irresistibly delicious proffee smoothie. Freeze ahead a banana to blend with instant coffee and protein powder for a decadently cool drink.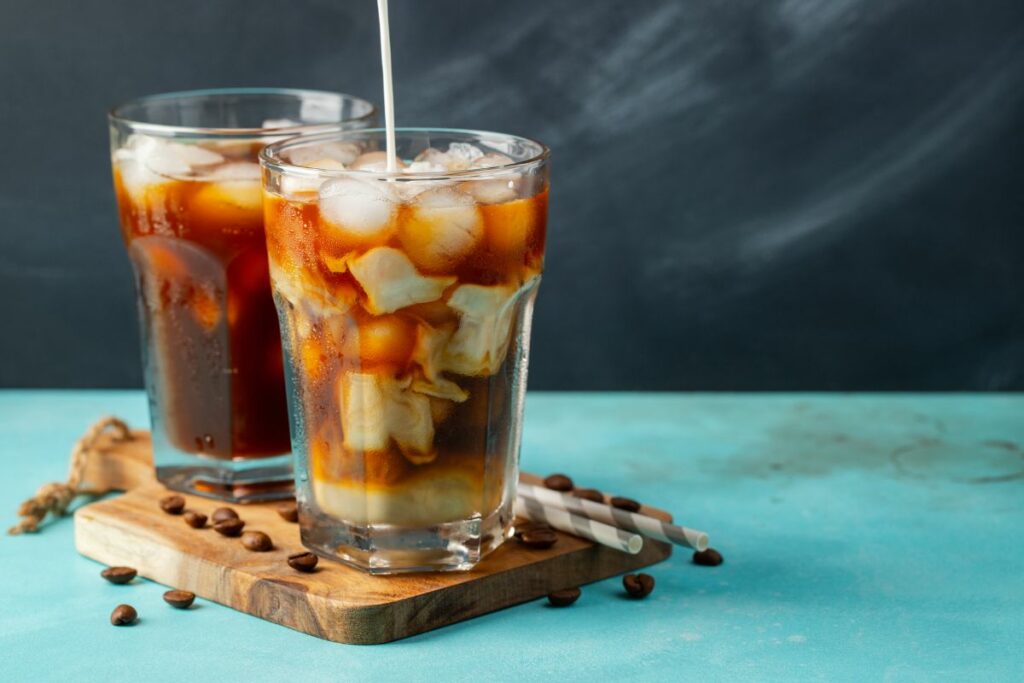 Tiktok Protein Coffee
Prep time: 5 minutes
Enjoy this smooth, protein-packed coffee beverage made with a double shot of espresso. Use plant-based milk and maple syrup for a lower-calorie, lower-sugar, high-protein energy boost. Now you can have your coffee on your way to a healthier and fitter lifestyle.
Protein Coffee
Prep time: 5 minutes
Losing weight is undeniably hard. This is the easiest hot or cold proffee recipe we've seen. Simply brew your favorite coffee and mix protein powder in – hot or cold, but be careful of the ratios.